If you have been looking for a great Album to show your pictures then look no further! PajerPhoto Album 3D is easy to use, just select a picture folder and away you go!
PajerPhoto Album 3D can view up to 4000 JPEG, Bitmap, PNG or TARGA pictures with the option of adding a sound to each picture.
The best way to see if PajerPhoto Album 3D is what your looking for is to download a no obligation 30 day evaluation copy and try it out! Just click the "Download Now" button or go to our download page and download it from there.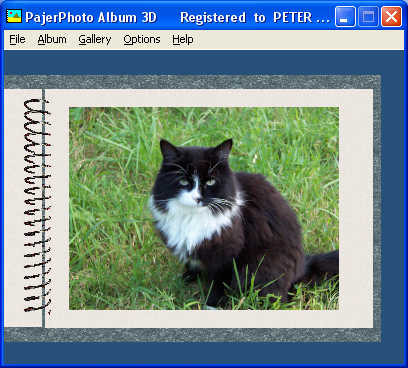 Some people like their pictures to fill the screen while others want the original aspect ratio to be displayed. PajerPhoto Album 3D allows both types and the Album also allows you to zoom into the picture to find your ideal distance.
The 3D Gallery supercedes PajerGallery 3D and is simpler but with a greater picture capacity ( 4000 instead of 40). The pictures can be JPEG photos instead of bitmaps and no control program is needed, just select a picture folder(s) to start.
To add sound to a picture just record the sound and place it in the same folder as your picture. Give it the same file name and the software will play the sound, Its that simple!
PajerPhoto Album 3D features
Display pictures in an Album or Gallery.
Easy to use, just select picture folder then run the Album or Gallery.
Resume option allows you to start at the last picture viewed.
Sub folders can be included.
When not in either Album or Gallery a real time clock is displayed.
Up to 4000 JPEG, Bitmap PNG or Targa pictures can viewed.
Original picture aspect ratio or screen aspect ratio for a full picture.
Sort pictures in date created or modified, picture name, folder name and the size of the picture.
Easy sound addition, just give your sound the same name as the picture and place it in the same folder!
DirectX(r) Full screen or Windows mode.
Automatic start up in Full screen or Windows running the Clock view, Album or Gallery.
Sound option allows you to switch the sound on or off and adjust the volume of the sound.
Simple screen online help. (Just click the H key).
Toggle the picture text information on or off
Album features
Fine or coarse adjustment of the distance to the album (zooming)
Automatically turns the picture page or you can turn them yourself.
Pause any time.
Choice of album page and cover backgrounds.
Run pictures forward, backward or in a random order.
Set how long you want to view a picture. (automatic mode)
Gallery features
Up to five pictures viewed in the Gallery on each cycle.
The one picture Gallery mode is the same as a standard slide show album.
Run pictures forward, backward or in a random order.
Switch clock display on or off in the Gallery.
The Gallery automatically adjusts the view to an ideal view position of the picture.
Other features
Full HTML help file.
You can preset a DirectX(r) Full screen resolution to run at start up.
Software Prerequisites
DirectX(r) 8.0 or above.
Windows(r) 2000 or XP Operating Systems.
32MB of graphics RAM is a realistic minimum. ( Five large JPEG photos for the Gallery but this can be reduced to one photo if needed)
You can also download PajerPhoto Album 3D from a trusted 3rd party:-
You can download a free 30 day trial of PajerPhoto Album 3D directly from the c/net download.com site click the button below:-