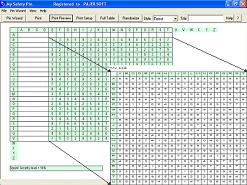 My Safety Pin is aimed at anyone who has a poor memory for numbers or is unable to remember their pin numbers no matter how hard they try.
My Safety Pin allows you, at your own risk, to create a print out of a table full of random numbers and within that table place your pin number. The placement is based on words instead of numbers which can be easier to remember.
You can now reference your pin number using the table before you attempt to input in your number and as long as you follow some simple security guide lines your pin number should remain safe. To read more about My Safety Pin click here
F.A.Q.
How easy is it to use?
Just run the Pin Wizard which will take you through a few steps needed to place your pin number within the random number table then your given the option to immediately print out the full table. Where the numbers go is up to you! You can place them very securely over the full table or for less secure options close together to make it easier to remember.
Who is it aimed at? Any one who has a poor memory for numbers.
This covers a wide group. Some people often have more than one card and its is becoming really hard to keep up with all your pin numbers. My Safety Pin can print out tables for all your extra pin numbers so you never have to worry about remembering them.
Another group can suffer from stress or panic when approaching a pin machine, this can affect their memory - My Safety Pin can come to the rescue by giving you the confidence to know your number is on print out in your pocket ready to use anytime you need it.
My memory is ok but I have relatives and close friends with poor memories and with no computer! How can My Safety Pin help them?
Of course without a computer they cannot use My Safety Pin.
If your worried about them why not download a free trial of the software and try it out. If you think it would benefit them either ask them to buy it via yourself or buy it for them as a present.
Could the pin number be taken by spy ware software?
You should always ensure spy ware is removed from your computer.
A key logger spy program would have to know the keys you press for a pin number are for a particular card. Out of the thousands of key presses the key loggers are scanning for passwords which stand out against the standard words and numbers people key into their computer. For example "1246" would not stand out but "jk7s4pd2" would because people do not normally type random numbers into their computer!
Key loggers are very dangerous for computer passwords and on line credit cards sales and you should always ensure they are not on your computer.