Free WinShuffle (formally WinShuffle) has two types of puzzles, shuffle and a block Jigsaw. The object of Shuffle is to put the squares into their correct sequence. Seems easy but gets fiendishly difficult near the end. Block Jigsaw allows you to take any suitable bitmap to use as the basis for the Block Jigsaw picture. To see the complete picture just click the right hand mouse button.
For the young, two variations on Block Jigsaw are provided. The first is Alphabet Block Jigsaw. You drag the letters to their correct position, great for kids just starting to learn their alphabet. The second puzzle is a number version.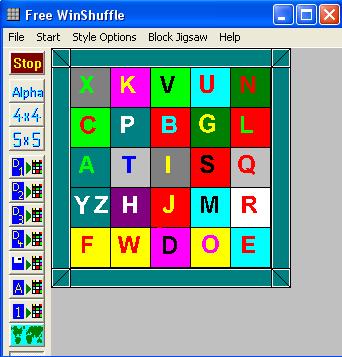 Features
Ten number array sizes and an alphabet version
Three square styles
Choice of square size on some options

Block Jigsaw

Use any suitable bitmap for the picture
Alphabet version
Number version
Four Default bitmap buttons
Click Right Hand mouse button to see original bitmap

Features

Sound and timer options
Online Windows Help
Most recent bitmap file list
Save and restore game option
Animated jigsaw movement
New default jigsaw dialog box for ease of selection
Larger bitmap picture.
No minimum bitmap size. Minimum display is 3 by 3 squares
Four default pictures included. The defaults can easily be changed by using the change default dialog.
World map block jigsaw.
By the way, if you pick your lottery numbers randomly you can use Winshuffle's shuffle puzzle to do it for you. Just select the 7 x 7 square, 49 number ( or 6x6, 5x5...) and decide on which method to use. A good method is to just pick the first 6 squares starting from the top left hand side. The blank is 49. Good Luck!