Rapid Email Support is a software productivity tool designed to save you time and money by speeding up the time taken replying to your emails.
It does this by using the powerful combination of database, knowledge base, small text file templates and the ability to easily add them to your outgoing email you are composing or replying to. Simple but effective.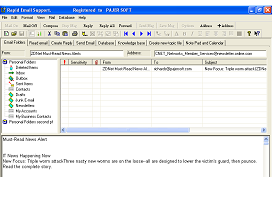 Rapid Email Support is priced at only $19.95 (U.S.) so why not download a 30 day free trial and try it out?
Email features
Send emails via Outlook (r) Outbox.
Compose, reply and forward email messages.
Save draft message and reopen for editing at a later time.
Reads raw html email messages or can extract the plain text without calling or using ActiveX controls, pictures or scripts.
Delete, copy and move messages within message folders.
Send plain text or RTF emails.
Mark messages as read, unread.
Filter messages based on an individual column.
Read the email header just by holding down the Alt key while selecting it.
Database features
Two Database tables. A general problem solution table and a Knowledge base table.
Uses OLEDB database connection to connect to Microsoft's Access(r) or Excel(r).
One touch Button to transfer data from some fields directly to the outgoing email.
Search on each field, email name & address or a range of dates.
Create a basic email from the name and address field in the database.
Create a new database record from the email name, email address and subject of an email message.
Use any field as the Index.
Template topic features
Create or update template topics easily.
Rename, delete and move the template topics easily
Button to transfer the selected topic or Drag drop the topic into the email.
Buttons to add header, footer ( signature ) and date text to the outgoing email.
Other features
Full HTML help file.
Context sensitive help on controls, menu and tool bars.
Persistent Note Pad for those important facts.
Print email messages, outgoing message, topic or Note pad.
Simple 3 month calendar.
Software Prerequisites
Microsoft Office 2000 (r) standard or above.
Microsoft Jet database engine version 4.
Microsoft's Extended messaging Application Interface.
Windows 98 or above.
Rapid Email Support is an Internet email client and does not operate under Microsoft's Exchange (r) mail server.
Rapid Email Support does not run under Outlook Express and requires Outlook 2000 (r) or above.
If you are looking for software to keep an eye on your employees time or bill support customers then Rapid Email Support is not for you. If you want to make yourself and your employees more productive replying to customers then Rapid Email Support is worth investigating.
The database can be connected to either Microsoft's Access(r) or Excel(r) via Microsoft's OLEDB. You will need to have Microsoft's JET engine version 4 installed to run the database ( standard if you have Microsoft' Office installed.)
Time is the best productivity gain you can make.