The Learn Math Results program is part of the Learn Math 3D on Orbital One software package. The program displays or printouts the results for up to 32 students. It also is the place to add student names to the database.
A simple but powerful filter system allows you to quickly look at an individual student's results and allows you to quickly narrow the display to a single topic and student.

The above screen shot shows the name. topic and answer type filters allowing you to quickly find the results you require.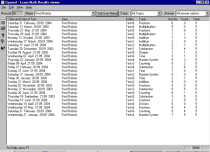 The above screen shot shows the full screen of
For more information why not Download the User guide-help file (165K) which contains the help for all the programs in the 3D software package.