Learn Math 3D on Orbital One allows you to also make up your own tests. Learn Math question maker is part of the Learn Math 3D package and allows you to create more math tests using a normal 2D Windows environment for use in the 3D world of Learn Math 3D on Orbital One.
243 extra tests are available for the teacher or student to use and you can reuse the other 243 that come with the package.
The Learn Math Question Maker can be downloaded and tried for free. Click here ( 728Kb) or click the download button below. Unlike Learn Math 3D the question maker is designed for teachers and parents and is a more complex piece of software.

It also includes the help file for the whole Learn Math 3D package. There are no time limitations on Learn Math Question Maker and you are free to use it to create your own math tests.
Simple examples
The first example is a simple missing number question from the first topic, test 8, question 1. You are in the input mode so red lines are shown and indicate where the user will place their answer. All ten lines start off with the "Line not used" status and you decide what each lines function will be. This can be from just displaying the question to which line accepts the input.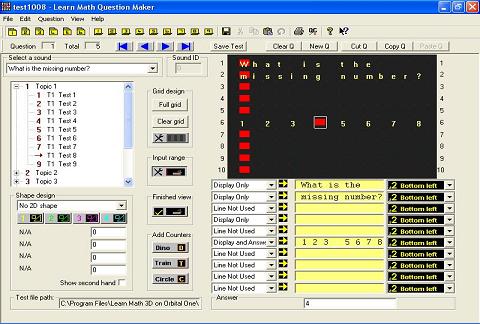 Below is a compressed screen shot of the same question in Learn Math 3D. The student is using their mouse to move the number 4 into the white box. The student can set the test to automatically check their answer or they can press the enter key. ( You can, of course, just use the keyboard to input your answers )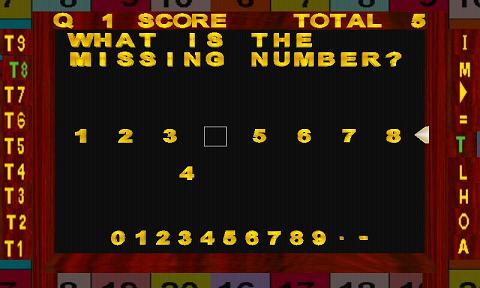 The second example from topic 8, test 3, question 1 checks to see if the student knows what a quarter looks like. The shapes are picked from a drop down list and in grid mode you can draw grid lines directly onto the board area. Because you are in the "Finished view" the red input lines are not shown.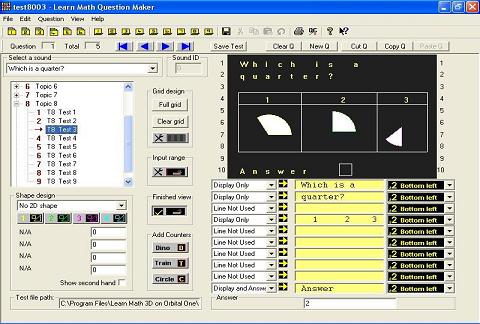 Below is a compressed screen shot of the board in Learn Math 3D for this question. The student has not answered yet or picked up a number from the bottom of the board. If they do pick up a number with the cursor the cursor disappears and is replaced with the actual number they picked up.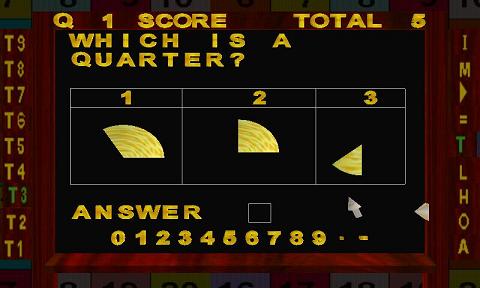 Note
The drop down list box in Math Question Maker showing with " 22 bottom left " allows you to place borrow/carry forwards on any of the four positions on each number in that line. Very handy for long division and more complex addition/subtraction sums.
For more information why not Download the user guide-help file (165K) which contains the help topics for all the programs in the 3D software package.